---
Nr 2/2022 Tom 152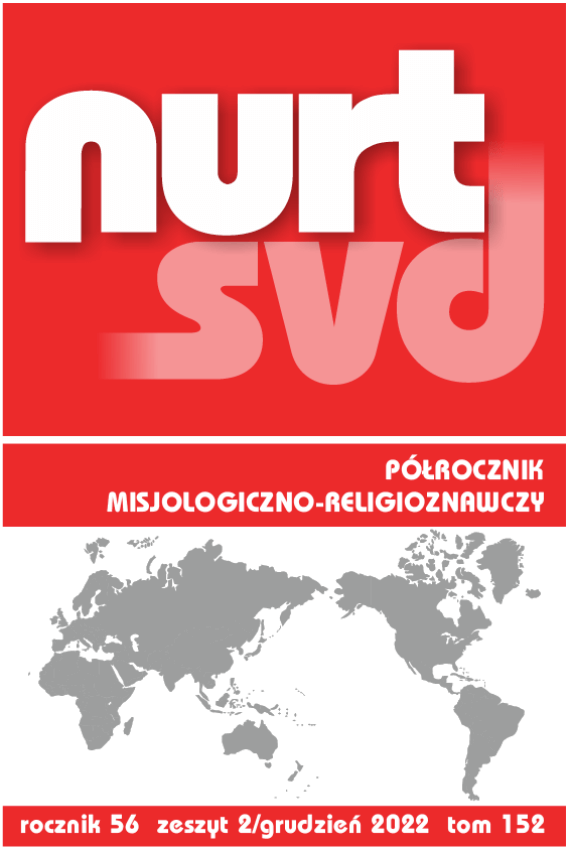 Historia misji / Mission history
Józef Węcławik SVD
Działalność Stowarzyszenia Droga w latach 1987-2019
Activities of the Droga Association in the Years 1987-2019
Michał Studnik SVD
Rys historyczny Biblioteki Misyjnego Seminarium Duchownego Księży Werbistów w Pieniężnie
The historic outline of the library of the Higher Mission Seminary of the Divine Word Missionaries in Pieniężno
Andrzej Miotk SVD
The tragedy of Thomas Megan – the Prefect Apostolic of North Henan: apostolic or political missionary?
Piotr Adamek SVD
The Establishment of the Russian Ecclesiastical Mission in Peking as an Example of a Long-Term Cooperation between the State and the Church: A Historical Review
Rafał Berger
Tatar w dialogu z kardynałem
A Tatar in dialogue with the Cardinal
Jarosław Tomaszewski
Papież i dyktator. Wizyta Jana Pawła II w Chile
The Pope and the dictator. John Paul II's visit to Chile
Szymon K. Ciećko
Czyn moralny w Jedwabnem. Refleksja w 81. rocznicę zdarzenia (cz. 1)
A Moral Act at Jedwabne. A Reflection on the 81st Anniversary of the Event (part 1)
Paweł Szuppe
Dakini – zasada żeńska w buddyzmie tybetańskim
Dakini – Feminine Principle in Tibetan Buddhism
Misja w kontekście / Mission in Context
John P. Aisu
The influx of Street Children on the streets of Uganda cities. What the Church can do?
Jarosław Tomaszewski
Papież i Mapuche. Duchowość Indian chilijskich
Pope and Mapuche. Chilean Indian Spirituality
Piotr Froelich
Pomoc w likwidowaniu skutków cyklonu Haruna w diecezji Morombe na Madagaskarze w świetle nauczania misyjnego
Help to Deal with the Effects of Cyclone Haruna in the Diocese of Morombe in Madagascar in the Light of Missionary Teaching
Zbigniew Kulesz
Spotkać siebie w innych. Droga do braterstwa w encyklice "Fratelli tutti" papieża Franciszka
Meet Yourself in Others. The Way to Fraternity in the Encyclical "Fratelli tutti" of Pope Francis
Józef Węcławik SVD
Horyzonty antropologiczne encyklik papieża Benedykta XVI
Anthropological Horizons of the Encyclicals of Pope Benedict XVI
Kamilla Termińska-Korzon
Obraz jako sens hebrajskiego rdzenia. Przyczynek do kwestii (nie)przetłumaczalności hebrajskiej Biblii
The Notion of Picture as the Meaning of the Hebrew Core. Contribution to the Question of the (un)Translatability of the Hebrew Bible
Antoni Jucewicz SVD
Cnota roztropności w ujęciu Josefa Piepera
The Virtue of Prudence in Josef Pieper's View
Magdalena Krejpcio
Kult Bożego Miłosierdzia i jego wpływ na rozwój duchowy dzieci i młodzieży
The Cult of Divine Mercy and its Influence on Spiritual Development of Children and Youth
Recenzje / Reviews
Eric Lacandula SVD
Andrzej Miotk SVD, 2022, The Untiring Missionary of the Word and the Spirit, Vol. 1, Arnold Janssen: From the Sacred Heart to World-Wide Vision, 646 p.; Vol. 2, Arnold Janssen's Spiritual Journey, 331 p., Collegium Verbi Divini, Roma.
EAN: 9788894578539 296
Adam Michałek SVD
Piskorek I., Wojcieszko J., Połomski M. (red.), Sto lat działalności Domu Misyjnego Świętego Wojciecha w Pieniężnie. Księga pamiątkowa, II tomy, Verbinum, Górna Grupa, 2021, 991 s.
ISBN (t. I) 978-83-7192-603-7
ISBN (t. II) 978-83-7192-604-4
Stanislav Orečný SVD
Tomáš Gerboc, 2021, Spoločnost' Božieho Slova v Československu počas komunistického režimu v rokoch 1948-1968. The Society of the Divine Word in Czechoslovakia during the Communist Regime in 1948-1968, Monografia, Dobrá kniha, Trnava, 256 p.
ISBN 978-80-8191-333-4
Jarosław Tomaszewski
Kardynał Daniel Sturla, 2021, Carta pastoral !Devuélveme la alegría de tu salvación!, Iglesia Católica, Montevideo, 78
Sprawozdania / Reports
Piotr Kopiec
Ambiwalencje austriackiej kultury pamięci. Wyjazdowe seminarium naukowe pt. "Ślady Pamięci. Austria w latach 1933-1945", zorganizowane przez Stowarzyszenie Kultury Pamięci Vestigia Memoria, Wiedeń, 29 czerwca – 3 lipca 2022 roku 317
Marek A. Rostkowski OMI
Sprawozdanie z XV Zgromadzenia Ogólnego International Association for Mission Studies (IAMS), Sydney, Morling College, 7-12 lipca 2022 roku